Darwin's Fantastical Voyage
Topics:
Art and design
Geography
Literacy
These activities explore Darwin's life changing voyage aboard HMS Beagle. Using letters home, Darwin's packing lists and colour charts, pupils consider the preparation for and demands of a long sea voyage and increase their comprehension, vocabulary, creative writing and design skills.
Starter Presentation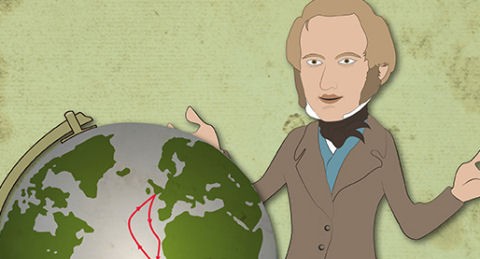 Learning outcomes
By the end of the activities pupils will be able to:
describe Darwin's experience of the voyage and why it was important
write about an imagined journey based on what they have learnt
explain the route that Darwin took on the voyage and name some places that he visited
describe some of the amazing animals that Darwin found on the voyage and create their own
Discussion questions
Thinking beyond and testing your learning
Darwin brought back plants, rocks, fossils and animals from his time on the Beagle voyage.
If you were to go on a long sea voyage to discover rare plants and animals, what issues would you need to think about for you, your safety and the things that you might find?