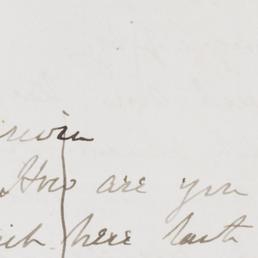 Summary
Lyell's volume [Principles, 10th ed.] received.
"We must now keep him straight anent origin and development."
Some of Spencer's new part is interesting but much is dull and ponderous.
Huxley's Elementary physiology [1866].
Has finished his New Zealand manual [Handbook of New Zealand flora (1864–7)]. New Zealand flora [and past geological conditions] suggest islands were once connected.
Speculates on the total amount of living organised matter on the globe, and whether it varies.
Balfour Stewart on sunspots.
| | |
| --- | --- |
| Author:   | Joseph Dalton Hooker |
| Addressee:   | Charles Robert Darwin |
| Date:   | 4 Dec 1866 |
| Classmark:   | DAR 102: 114–17 |
| Letter no:   | DCP-LETT-5294 |
Matches: 1 hit
… the Royal Institution of Great Britain 4 (1862–6): 378–80. Turrill, William Bertram. 1953. …
Summary
Thanks CD for Journal of researches.
Insect genus Elater is an exception to the rule that all luminous organs give out a green light.
Gives some observations on climbing plants at Itajahy.
His study of orchids has convinced him of the value of CD's book.
| | |
| --- | --- |
| Author:   | Johann Friedrich Theodor (Fritz) Müller |
| Addressee:   | Charles Robert Darwin |
| Date:   | 13 Feb 1866 |
| Classmark:   | Möller ed. 1915–21, 2: 79–80 |
| Letter no:   | DCP-LETT-5004A |
Matches: 1 hit
… By Charles Darwin. London: John Murray. 1862. West, David A. 2003. Fritz Müller. A …