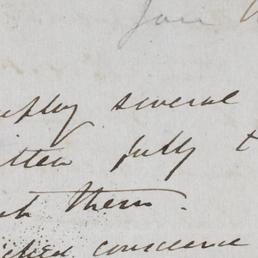 Summary
Asks CD whether he hears from Asa Gray. JDH's opinion of the crisis [Trent case, Nov 1861] and the American Civil War.
Julius von Haast alludes to glacial drift in Middle Island of New Zealand.
Backwardness of JDH's son, Willy.
Encloses a reference from Daniel Oliver which may be useful.
| | |
| --- | --- |
| Author:   | Joseph Dalton Hooker |
| Addressee:   | Charles Robert Darwin |
| Date:   | [29 Dec 1861] |
| Classmark:   | DAR 101: 1, 2a–c |
| Letter no:   | DCP-LETT-3374 |