| | |
| --- | --- |
| Author:   | James Lamont |
| Addressee:   | Charles Robert Darwin |
| Date:   | 23 Aug 1871 |
| Classmark:   | DAR 88: 110–11 |
| Letter no:   | DCP-LETT-7917 |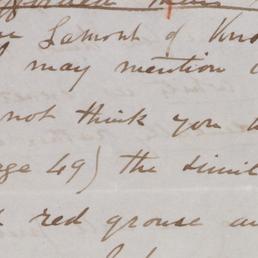 Summary
Believes the British and Norwegian species of red grouse are merely strongly marked varieties of the same species.
Writes of the effect of importing a few brace of a wilder breed of grouse into Argyleshire and of their change in territory since 1846.
His explanation of game becoming "wilder": he thinks it is due to a difference in their enemies – man replacing hawks leads to flight replacing cowering.
| | |
| --- | --- |
| Author:   | James Lamont |
| Addressee:   | Charles Robert Darwin |
| Date:   | [23 Feb 1860] |
| Classmark:   | DAR 47: 150–1 |
| Letter no:   | DCP-LETT-2710 |
Matches: 4 hits