Summary
Asks for copy of CD's paper ["Ancient glaciers of Caernarvonshire", Collected papers 1: 163–71]. Gathers that drift of Moel Tryfan is glacial.
Believes Glen Roy roads formed later than submergence of Scotland.
Asks CD's opinion concerning relative chronology of various glacial deposits, particularly a flint tool find in the Ouse River near Bedford.
| | |
| --- | --- |
| Author:   | Charles Lyell, 1st baronet |
| Addressee:   | Charles Robert Darwin |
| Date:   | 30 Sept 1861 |
| Classmark:   | Edinburgh University Library, Centre for Research Collections (Gen.112/2813-16) |
| Letter no:   | DCP-LETT-3270 |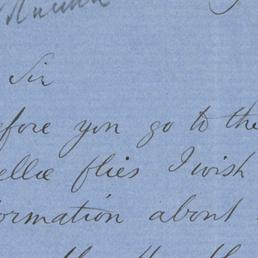 Summary
Discusses the mimicry of the Volucella flies, and the bees and wasps they mimic. Compares it with the different object of mimicry in butterflies.
Refers to incompleteness of Cuthbert Collingwood's paper [? "On homophormism, or organic representative forms", Proc. Liverpool Lit. & Philos. Soc. 14 (1860): 181–216].
Thanks CD for help in selecting a publisher for his book [The naturalist on the river Amazons (1863)].
| | |
| --- | --- |
| Author:   | Henry Walter Bates |
| Addressee:   | Charles Robert Darwin |
| Date:   | 30 Sept 1861 |
| Classmark:   | DAR 205.10: 92 |
| Letter no:   | DCP-LETT-3271 |