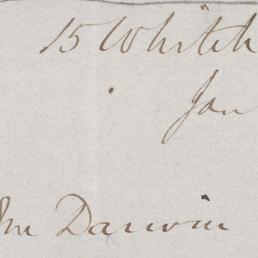 Summary
Returns CD's MS [of entomological section of Descent] marked with suggested alterations.
Suggests qualifications about rudimentary horn in female Onitis furcifer [See Descent 1: 372].
Sends additional data on colour differences in sexes of longicorn Coleoptera [See Descent 1: 367–8].
Suggests a modification of CD's view of female coloration that would bring him "nearly into harmony" with Wallace.
| | |
| --- | --- |
| Author:   | Henry Walter Bates |
| Addressee:   | Charles Robert Darwin |
| Date:   | 17 Jan 1870 |
| Classmark:   | DAR 82: A44–5 |
| Letter no:   | DCP-LETT-7082 |