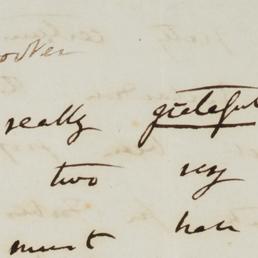 Summary
CD is unsure about JDH's recommendation that he publish a separate "Preliminary Essay". It is unphilosophical to publish without full details.
CD will work for Huxley's admission to Athenaeum.
| | |
| --- | --- |
| Author:   | Charles Robert Darwin |
| Addressee:   | Joseph Dalton Hooker |
| Date:   | 11 May [1856] |
| Classmark:   | DAR 114: 162 |
| Letter no:   | DCP-LETT-1874 |
Summary
Discusses theory of submerged continental extensions. Objects that if it is applied to one island, it must be applied to all. Admits that some volcanoes may have been associated with subsidence, in contrast to his former view. Cites evidence from S. American Cordillera. Doubts that elevation associated with volcanoes is merely local, and that great ocean areas are necessarily sinking.
Says he will make his essay [on species] as complete as possible and will discuss CL's Principles.
| | |
| --- | --- |
| Author:   | Charles Robert Darwin |
| Addressee:   | Charles Lyell, 1st baronet |
| Date:   | 5 July [1856] |
| Classmark:   | American Philosophical Society (Mss.B.D25.133) |
| Letter no:   | DCP-LETT-1917 |
Matches: 1 hit
… edition of Coral reefs , published in 1874, contains numerous revisions in the light of …