Summary
Thanks AG for his trouble about expression queries; wishes he had thought earlier of having them printed.
Is "plodding on" correcting Variation
and getting "a little amusement" from plant experiments. Oxalis is trimorphic like Lythrum.
Is continuing his experiments on seedling vigour.
Has heard hybrid potatoes can be produced by joining halves of different tubers.
| | |
| --- | --- |
| Author:   | Charles Robert Darwin |
| Addressee:   | Asa Gray |
| Date:   | 15 Apr [1867] |
| Classmark:   | Gray Herbarium of Harvard University (97) |
| Letter no:   | DCP-LETT-5442 |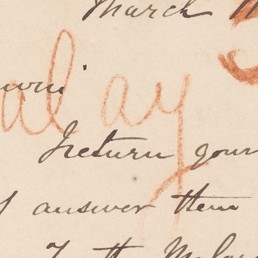 Summary
ARW responds to CD's list of queries about expression. Suggests acquiring informants through publishing the queries in newspapers. His doubts about their importance.
Has submitted caterpillar question to Entomological Society.
| | |
| --- | --- |
| Author:   | Alfred Russel Wallace |
| Addressee:   | Charles Robert Darwin |
| Date:   | 11 Mar [1867] |
| Classmark:   | DAR 106: B24, B45; DAR 82: A22 |
| Letter no:   | DCP-LETT-5437 |