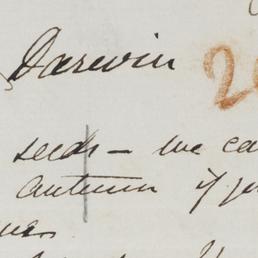 Summary
Non-endemic Ascension Island plants brought by man, not wind-transported.
Bentham has found intermediates between oxlip and cowslip in Herefordshire.
JDH finds quantity of albumen in seeds is not variable within a species.
| | |
| --- | --- |
| Author:   | Joseph Dalton Hooker |
| Addressee:   | Charles Robert Darwin |
| Date:   | 7 May 1856 |
| Classmark:   | DAR 100: 94–5 |
| Letter no:   | DCP-LETT-1869 |
Summary
Encloses "notes for Mr. D" [see 1818] and a memorandum on the wild cattle of southern India [see 1819].
Breeds of silky fowl of China and Malaya. Black-skinned fowl.
Doubts any breed of canary has siskin blood; all remain true to their type.
Wild canary and finch hybrids.
Hybrids between one- and two-humped camels.
Does not regard zebra markings on asses as an indication of interbreeding but as one of the many instances of markings in the young which more or less disappear in the adult.
Crossing of Coracias species at the edges of their ranges.
Regional variations and intergrading between species of pigeons.
Regards the differences in Treron as specific [see Natural selection, p. 115 n. 1].
Gives other instances of representative species or races differing only in certain details of colouring.
| | |
| --- | --- |
| Author:   | Edward Blyth |
| Addressee:   | Charles Robert Darwin |
| Date:   | 8 Jan [1856] |
| Classmark:   | DAR 98: A110–13, A117–21 |
| Letter no:   | DCP-LETT-1817 |
Matches: 1 hit
… were published. The supplement was completed in 1869. J.  Gould 1850–83 . By January 1856, …