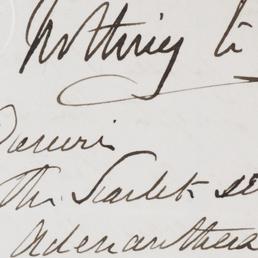 Summary
Scarlet seed is Adenanthera pavonina. JDH's suggestion on how disseminated.
On Herbert Spencer, "all oil no bone – a thinking pump", but his paper on sap and wood [Trans. Linn. Soc. Lond. 25 (1866): 405–30] is good science. His refusal to bring a specimen for analysis when confronted by JDH.
Bentham and Martin disagreement.
Speculations on New Zealand flora.
Albert Günther's paper on fishes on each side of Isthmus of Panama [Proc. Zool. Soc. Lond. (1866): 600–4].
On the quantity (bulk and weight) of organic life [matter].
| | |
| --- | --- |
| Author:   | Joseph Dalton Hooker |
| Addressee:   | Charles Robert Darwin |
| Date:   | 14 Dec 1866 |
| Classmark:   | DAR 102: 121–6 |
| Letter no:   | DCP-LETT-5305 |
Matches: 1 hit
… of Genera plantarum (Bentham and Hooker 1862–83) was published in 1865, the third in 1867. …