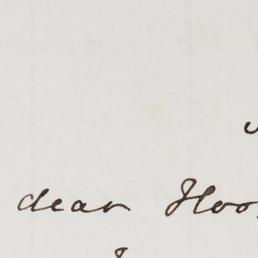 Summary
Has heard from B. J. Sulivan about the fossils at Gallegos, Patagonia. Would be a great haul for palaeontology if Duke of Somerset would encourage Capt. Mayne to collect them [on survey of Magellan Strait].
Tells JDH of a new map of world that he might use in his lecture [on "Insular floras", BAAS, 1866, J. Bot. Br. & Foreign 5 (1867): 23–31; Gard. Chron. (1867): 6, 27, 50, 75].
Impressed by H. Spencer's last number, but each suggestion would require years of work to be of use to science.
| | |
| --- | --- |
| Author:   | Charles Robert Darwin |
| Addressee:   | Joseph Dalton Hooker |
| Date:   | 30 June [1866] |
| Classmark:   | DAR 115: 292 |
| Letter no:   | DCP-LETT-5135 |