Summary
Looks forward to reading Variation.
Explains how two or more female forms occur in one species through selection. The physiological problem remains of how each produces offspring like the other without intermediates. Is not CD's case of varieties that will not blend the physiological test of a species needed for "complete proof of the origin of species"?
"Travels" postponed.
| | |
| --- | --- |
| Author:   | Alfred Russel Wallace |
| Addressee:   | Charles Robert Darwin |
| Date:   | 4 Feb 1866 |
| Classmark:   | DAR 106: B31–2 |
| Letter no:   | DCP-LETT-4997 |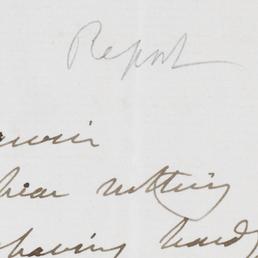 Summary
Asks CD whether he knows of a medicine to check vomiting – for a friend dying from starvation as a result.
Duke of Somerset is looking for two naturalists for survey ship to Korea and Strait of Magellan.
| | |
| --- | --- |
| Author:   | Joseph Dalton Hooker |
| Addressee:   | Charles Robert Darwin |
| Date:   | 4 Feb 1866 |
| Classmark:   | DAR 102: 57–8 |
| Letter no:   | DCP-LETT-4996 |
Matches: 1 hit
… for the East India Company from 1840 until 1862 ( Buchanan 1908 , pp.  441–2). Campbell …