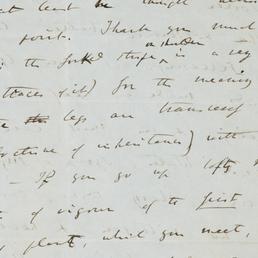 Summary
Thanks JDH for agreeing to observe coats of asses and mules in Middle East.
Asks for observations on vigour of plants as JDH ascends mountains.
Ad hominem article in Athenæum [review of John Tyndall, Glaciers of the Alps, 1 Sept 1860, pp. 280–2].
Reports extensive experiments on Drosera.
Observations on orchid anatomy.
| | |
| --- | --- |
| Author:   | Charles Robert Darwin |
| Addressee:   | Joseph Dalton Hooker |
| Date:   | 6 Sept [1860] |
| Classmark:   | DAR 115: 74 |
| Letter no:   | DCP-LETT-2908 |
Matches: 1 hit
… By Charles Darwin. London: John Murray. 1862. Origin : On the origin of species by means …