Summary
Thanks LA and sends thanks to A. A. Gould for specimens. Describes principal findings of his research on cirripedes. Is obliged for information Joseph Leidy gave about cirripede eyes. Describes anatomical features and chief aspects of growth. Describes discovery of parasitic males and a species parasitic upon other cirripedes.
| | |
| --- | --- |
| Author:   | Charles Robert Darwin |
| Addressee:   | Jean Louis Rodolphe (Louis) Agassiz |
| Date:   | 22 Oct 1848 |
| Classmark:   | Houghton Library, Harvard University (MS Am 1419: 274) |
| Letter no:   | DCP-LETT-1205 |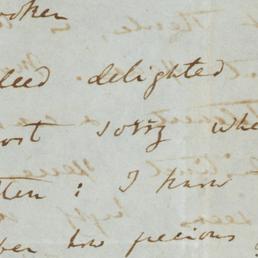 Summary
Confident of species theory as result of applying it to cirripede sexual systems.
CD's opinion of E. Blyth. JDH should meet Blyth, inquire about domesticated varieties, study insular flora, solve coal-plant problem.
| | |
| --- | --- |
| Author:   | Charles Robert Darwin |
| Addressee:   | Joseph Dalton Hooker |
| Date:   | 10 May 1848 |
| Classmark:   | DAR 114: 112 |
| Letter no:   | DCP-LETT-1174 |
Matches: 1 hit
… By Charles Darwin. London: John Murray. 1859. Sheets-Pyenson, Susan. 1981. Darwin's data: …
Summary
Though correspondence has never ebbed so low, CD is constantly in his thoughts.
Observations on cheetahs used as domesticated hunting animals.
Finds geographical barriers sometimes separate species, but also finds species that remain separate where there are no barriers to migration.
Colour "individuates" isolated animal species.
Plains and alpine animal distribution show altitude not strictly analogous to latitude.
Impact of timber cutting on climate has led to extinction of crocodiles.
Will discuss coal formation in letter to Edward Forbes.
CD often asked whether isolated mountains in southern latitudes had closely allied representatives of Arctic and north temperate plants; JDH has found a representative barberry.
Making for Darjeeling via Calcutta.
| | |
| --- | --- |
| Author:   | Joseph Dalton Hooker |
| Addressee:   | Charles Robert Darwin |
| Date:   | 20 Feb – 16 [Mar] 1848 |
| Classmark:   | Royal Botanic Gardens, Kew (India letters 1847–51: 52–4 JDH/1/10) |
| Letter no:   | DCP-LETT-1158 |
Matches: 1 hit
… life. By Charles Darwin. London: John Murray. 1859. Scherren, Henry. 1905. The Zoological …