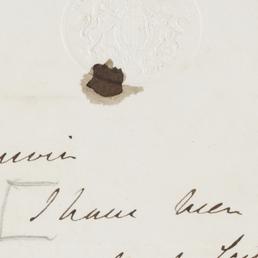 Summary
JDH suggests Scott go to India; he will write letters of introduction.
Conversation with Herbert Spencer.
George Bentham would like to know how CD's view of hybridism diverges from Charles Naudin's.
| | |
| --- | --- |
| Author:   | Joseph Dalton Hooker |
| Addressee:   | Charles Robert Darwin |
| Date:   | 19 May 1864 |
| Classmark:   | DAR 101: 220–1 |
| Letter no:   | DCP-LETT-4501 |
Matches: 1 hit
… followed in the wake of the Indian Mutiny in 1857, after which responsibility for land-use …
Summary
Response to ARW's papers on Papilionidae ["On the phenomena of variation and geographical distribution", Trans. Linn. Soc. Lond. 25 (1866): 1–71; abstract in Reader 3 (1864): 491–3],
and man ["The origin of human races", J. Anthropol. Soc. Lond. 2 (1864): clviii–clxxxvi].
The former is "really admirable" and will be influential.
The idea of the man paper is striking and new. Minor points of difference. Conjectures regarding racial differences; the possible correlation between complexion and constitution. His Query to Army surgeons to determine this point. Offers ARW his notes on man, which CD doubts he will be able to use.
On sexual selection in "our aristocracy"; primogeniture is a scheme for destroying natural selection.
[Letter incorrectly dated March by CD.]
| | |
| --- | --- |
| Author:   | Charles Robert Darwin |
| Addressee:   | Alfred Russel Wallace |
| Date:   | 28 [May 1864] |
| Classmark:   | British Library (Add. MS 46434: 39) |
| Letter no:   | DCP-LETT-4510 |
Matches: 1 hit
… this classification of mammals in R.  Owen 1857. See also Correspondence vol.  9, letter …