Summary
Sends extract [from Carl Johan Andersson, Lake Ngami (1856)] on expression.
| | |
| --- | --- |
| Author:   | William Winwood Reade |
| Addressee:   | Charles Robert Darwin |
| Date:   | 7 Sept 1872 |
| Classmark:   | DAR 176: 62 |
| Letter no:   | DCP-LETT-8514 |
Matches: 2 hits
… letter to G.  H.  K.  Thwaites, 31 January [1868] . There are no references to a giraffe shedding tears in Roualeyn George Gordon-Cumming's works; Reade may refer to William Cornwallis Harris's description in an anthology that includes Gordon-Cumming's observations (see Frost 1853 , p.  437). Expression 2d ed. , p.  176 n.  25, refers to Gordon-Cumming 1856 , …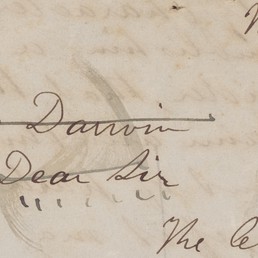 Summary
No need to apologise for not quoting AH's paper on acceleration and retardation.
Agassiz introduced AH to ammonites and entrusted collection to him. Has followed developmental history of each species and placed them within geological formations. Found evolutionary history of species recapitulated only to a degree in individual development. Stages frequently skipped. Explains why young of later animals are like adults that preceded them. Retardation entirely idea of Edward Drinker Cope. Sends paper to explain it. Acceleration can explain degraded forms. Often like youthful stage with which series began. Often resemble old age of earlier series. Regularity of these series incompatible with natural selection. How can selection account for degraded final stages or for predictability of development? Franz Hilgendorf's Paludinae from Steinheim lake show same parallelism in development. May be possible to reconcile this with selection. But Trochiformis begins to show degradation in beds where it is most numerous and has largest individuals, i.e., where selection seems to be favouring it. Will work on Steinheim shells this winter.
| | |
| --- | --- |
| Author:   | Alpheus Hyatt |
| Addressee:   | Charles Robert Darwin |
| Date:   | [late] Nov 1872 |
| Classmark:   | DAR 99: 48–55 |
| Letter no:   | DCP-LETT-8655 |
Matches: 1 hit
… 1856–8 , p.  35, the strata associated with Ammonites bucklandi (Bucklandibett) was equivalent to the English 'blue Lias'. Oppel associated A.  brooki (now Caenisites brooki ) with the Obtususbett, two levels above the Bucklandibett ( ibid. , p.  14). Hyatt refers to Alcide Charles Victor Dessalines d'Orbigny. Oscar Fraas . See letter …
Summary
Privately advises CD against having anything to do with W. P. Snow, whose personality and past conduct on a mission vessel were very bad.
Reports on the successes of the missionaries on the Beagle Channel [Tierra del Fuego].
| | |
| --- | --- |
| Author:   | Bartholomew James Sulivan |
| Addressee:   | Charles Robert Darwin |
| Date:   | 20 June 1872 |
| Classmark:   | DAR 177: 298 |
| Letter no:   | DCP-LETT-8393 |
Matches: 1 hit
… 1856 ( The Times , 8 December 1859, p.  8). At various periods Snow promoted emigration to South America and to New Zealand ( A.  G.  E.  Jones 1979 , p.  29). Snow was in financial difficulties in the 1870s and had presumably approached CD for help. Though no evidence has been found in CD's accounts that he gave or lent any money, Snow later referred to CD's rendering of 'temporary aid … a few years ago' ( letter …