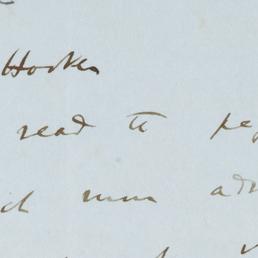 Summary
Cannot see how J. W. Dawson can accuse JDH of asserting a subsidence of Arctic America. Much of evidence for subsidence during glacial period will prove false as it largely rests on ice action which is more and more viewed as subaerial.
Dawson is biased against Darwinism.
Suggests Greenland may have been repopulated after glacial period extinguished flora, by migration in sea-currents.
Max Müller's view of origin of language is weakest part of his book [see 3752].
Would like to examine the rare Cypripedium hirsutissimum.
| | |
| --- | --- |
| Author:   | Charles Robert Darwin |
| Addressee:   | Joseph Dalton Hooker |
| Date:   | 4 Nov [1862] |
| Classmark:   | DAR 115: 168 |
| Letter no:   | DCP-LETT-3795 |
Matches: 1 hit
… letter to Asa Gray, 28 July [1862] and n.  11. Since the 1840s, CD and Hooker had debated …
Summary
EB has had his pension disallowed; is coming to England.
| | |
| --- | --- |
| Author:   | Edward Blyth |
| Addressee:   | Charles Robert Darwin |
| Date:   | 23 Nov 1862 |
| Classmark:   | DAR 160.2: 204, DAR 205.2: 216 |
| Letter no:   | DCP-LETT-3821 |
Matches: 1 hit
… Blyth in 1863 (see Correspondence vol.  11, letter from Edward Blyth, 21 September 1863 , …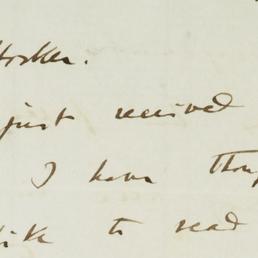 Summary
Sends Asa Gray letter: "nearly as mad as ever in our English eyes".
Bates's paper is admirable. The act of segregation of varieties into species was never so plainly brought forth.
CD is a little sorry that his present work is leading him to believe rather more in the direct action of physical conditions. Regrets it because it lessens the glory of natural selection and is so confoundedly doubtful.
JDH laid too much stress on importance of crossing with respect to origin of species; but certainly it is important in keeping forms stable.
If only Owen could be excluded from Council of Royal Society Falconer would be good to put in. CD must come down to London to see what he can do.
Falconer's article in Journal of the Geological Society [18 (1862): 348–69] shows him coming round on permanence of species, but he does not like natural selection.
Sends Lythrum salicaria diagram.
| | |
| --- | --- |
| Author:   | Charles Robert Darwin |
| Addressee:   | Joseph Dalton Hooker |
| Date:   | 24 [Nov 1862] |
| Classmark:   | DAR 115: 173, 279b; Royal Botanic Gardens, Kew (Hooker letters 2: 46) |
| Letter no:   | DCP-LETT-3822 |
Matches: 1 hit
… D.  Hooker, 27 [October 1862] and nn.  11 and 12, letter to W.  E.  Darwin, 4 [November  …