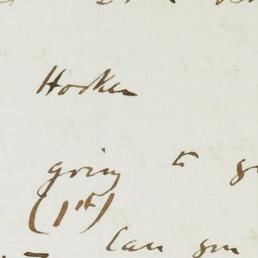 Summary
Requests reference to Jules Planchon's monograph on Linum [Lond. J. Bot. 6 (1847): 588–603; 7 (1848): 165–86, 473–501, 507–28].
Sends list of seeds, including Oxalis, Boraginaceae especially Alkanna.
Asa Gray says JDH wrote reviews of Orchids in Gardeners' Chronicle.
His experiments amuse him after dull day's work on vegetables and fruit-trees.
Leschenaultia formosa has exterior stigma, thus eminently requiring insect aid, and thus ensuring crossing almost inevitably.
Asks whether Samuel Haughton at Dublin who made important medical discovery could be the same who reviewed Origin so hostilely [in Nat. Hist. Rev. 7 (1860): 23–32]; if so, he can sneer at and abuse CD to his heart's content.
Asa Gray as rabid as ever [on Civil War].
| | |
| --- | --- |
| Author:   | Charles Robert Darwin |
| Addressee:   | Joseph Dalton Hooker |
| Date:   | 3 Nov [1862] |
| Classmark:   | DAR 115: 171 |
| Letter no:   | DCP-LETT-3793 |