Summary
Thanks for reviews of Insectivorous plants and of Climbing plants in Nation and American Journal Science [see 10329].
AG's essay on seed dispersal ["Burs in the borage family", Am. Nat. 10 (1876): 1–4].
Preparing book on advantages of crossing [Cross and self-fertilisation].
| | |
| --- | --- |
| Author:   | Charles Robert Darwin |
| Addressee:   | Asa Gray |
| Date:   | 28 Jan 1876 |
| Classmark:   | Archives of the Gray Herbarium, Harvard University (111) |
| Letter no:   | DCP-LETT-10370 |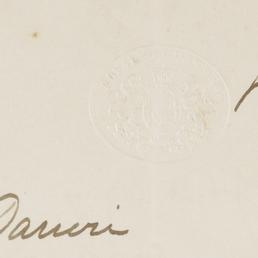 Summary
Asks CD to come up to vote for Lankester.
Severely critical of R. L. Tait's paper on Nepenthes communicated to the Royal Society.
| | |
| --- | --- |
| Author:   | Joseph Dalton Hooker |
| Addressee:   | Charles Robert Darwin |
| Date:   | 28 Jan 1876 |
| Classmark:   | DAR 104: 51–2 |
| Letter no:   | DCP-LETT-10371 |
Summary
Thanks for SL's [Études sur les echinoïdées (1875)]. Nothing could be more difficult than the homologies of this group.
| | |
| --- | --- |
| Author:   | Charles Robert Darwin |
| Addressee:   | Sven Ludvig (Sven) Lovén |
| Date:   | 28 Jan 1876 |
| Classmark:   | Centrum för vetenskapshistoria, Kungl. Vetenskapsakademien (Sven Lovéns arkiv, Inkommande brev, vol E1:3) |
| Letter no:   | DCP-LETT-10373 |
Summary
In April 1838, Darwin began recording the titles of books he had read and the books he wished to read in Notebook C (Notebooks, pp. 319–28). In 1839, these lists were copied and continued in separate notebooks. The first of these reading notebooks (DAR 119…
Summary
Re: Design – Adaptation of the Correspondence of Charles Darwin, Asa Gray and others… by Craig Baxter – as performed 25 March 2007
Summary
Darwin in London preparing for the voyage
Matches: 1 hits
… Darwin is living in London persuading Fitzroy to accept him on the voyage and preparing clothing, …
Summary
The Life of Erasmus Darwin (1879) was a curious departure for Darwin. It was intended as a biographical note to accompany an essay on Erasmus's scientific work by the German writer Ernst Krause. But Darwin became immersed in his grandfather's…
Matches: 1 hits
… in his grandfather's life, and the notice swelled to 128 pages, substantially longer than …
Summary
We chose four films to cover a broad chronology from the early 19th to the early 20th century; and a range of themes, including teaching Darwinism, slavery and race, degeneration in Victorian society, the boundaries between normal and abnormal in the…
Matches: 1 hits
… Spencer Tracy, Fredric March, Gene Kelly.  USA 1960. 128 mins, b/w. Wednesday 24 October …
Summary
The year 1861 marked an important change in the direction of Darwin's work. He had weathered the storm that followed the publication of Origin, and felt cautiously optimistic about the ultimate acceptance of his ideas. The letters from this year provide an…
Matches: 1 hits
… , he had before thought were 'unmeaning variability' (p. 128). Darwin often expressed how much more …
Summary
[f.146r Title page] Voyages of the Adventure and Beagle Supplement / to the 2nd 3rd and Appendix Volumes of the First / Edition Written / for and in the name of the Author of those / Volumes By J.C. Ross. / Sometime Master of a…
Matches: 1 hits
… – and premium of one [ f.212v p. 128 ]   "to …
Summary
1862 was a particularly productive year for Darwin. This was not only the case in his published output (two botanical papers and a book on the pollination mechanisms of orchids), but more particularly in the extent and breadth of the botanical experiments…
Matches: 1 hits
… a case of unmeaning variability' ( Autobiography ,p. 128). However, having made out the  Primula …
Summary
The Beagle was a sort of floating library.  Find out what Darwin and his shipmates read here.
Matches: 1 hits
… annotations by CD and Wickham, see  Voyage , p. 128 n.). CUL, Adv.b.79.18 †. * Aubuisson de …
Summary
Here is a list of people that appeared in the photograph album Darwin received for his birthday on 12 February 1877 from scientific admirers in the Netherlands. Many thanks to Hester Loeff for identifying and researching them. No. …
Matches: 1 hits
… Amsterdam     128 Lorié J. Phil.nat.cand …
Summary
List of people appearing in the photograph album Darwin received from scientific admirers in the Netherlands for his birthday on 12 February 1877. We are grateful to Hester Loeff for providing this list and for permission to make her research available.…
Matches: 1 hits
…       128 Lorié J. Phil.nat.cand. …