From George Henslow   1 November 1865
10 South Crescent | Bedford Sq: W.C
Nov 1/65
Dear Sir,
My Brother in-law, Joseph Hooker,1 has given me your address in order that I might be able to write to you on one or two little botanical matters about wh. I should like to ask permission to consult you.
While at Margate in the Summer,2 I was casually examining the fls of Medicago sativa which is largely cultivated there & discoverd a remarkable irritability in the stamens, viz: that when the alæ are slightly touched in a definite way the essential organs spring violently upwards, & by a simultaneous curving of the filaments, the anthers are dashed against the Vexillum, or any object (e.g. a pin) which may have caused the essential organs to rise.3
Have you ever observed it? ⁠⟨⁠N⁠⟩⁠either J. D. Hooker nr Prof Oliver4 were aware of the fact, & the former suggested my making a few notes upon that & a few other plants for the Linnean5 & I thought I should first like to hear if you had made any observns in the same direction.
I, of course, imagined that this uprising had something to do with cross fertilization, (following yr valuable generalization)6 & examined as many other Leguminosæ as I could meet with, to see if there was anything analogous in others. But I find that in other cases (Onobrychis, Lupinus, trifolium, Lotus, &c &c) the carina falls by the downward pressure of any body introduced which causes the protrusion of the essential organs.7
On returning home, & taking up yr Origin of Species, I opened at a sentence wh I had quite forgotten.— Where you say that "so necessary are the ⁠⟨⁠visits⁠⟩⁠ of bees to Papilionaceous flowers that … their fertility is greatly diminished if these visits be prevented".8 Will you kindly tell me where you have published yr remarks as I should much like to read them.9
another little observation is Salvia which, I think, seems constructed to secure cross fertilization. by depressing the abortive anther (wh forms the short arm to the levers,) the fertile one is brought down, as I conceive on to the back of an insect, that would strike against (with its head) the abortive anth.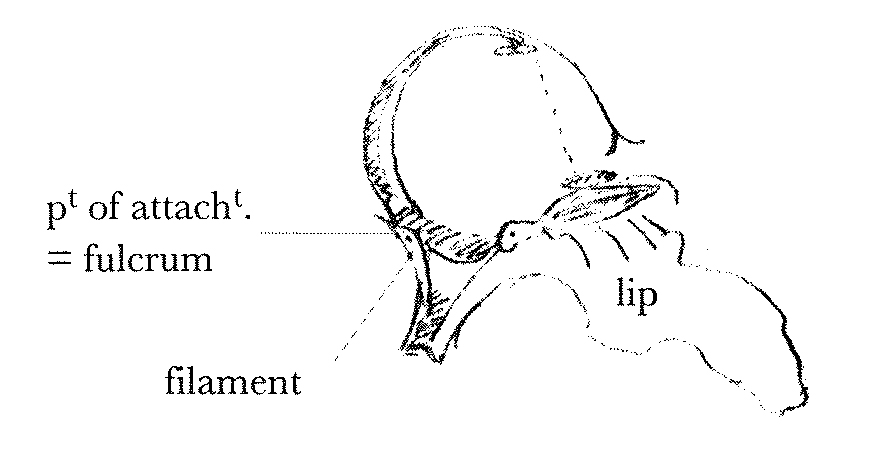 The stigma is so situated as to strike the back of the insect when inserted into another fl.—
All this is Hypothetical as I have never seen an insect do it.
⁠⟨⁠I shou⁠⟩⁠ld much like to hear if ⁠⟨⁠you⁠⟩⁠ have ever made any observati[ons] on this.
Crocus is another as affords (by Bees) means of cross fertilization
If you would kindly give me any informn. or refer me to any work bearing on these, I should be much obliged.
In mean time, | I beg to remain | Yrs very faithfully | George Henslow
C Darwin Esq.
Footnotes
Bibliography
Browne, Janet. 1995. Charles Darwin. Voyaging. Volume I of a biography. New York: Alfred A. Knopf.
Collected papers: The collected papers of Charles Darwin. Edited by Paul H. Barrett. 2 vols. Chicago and London: University of Chicago Press. 1977.
Correspondence: The correspondence of Charles Darwin. Edited by Frederick Burkhardt et al. 29 vols to date. Cambridge: Cambridge University Press. 1985–.
DNB: Dictionary of national biography. Edited by Leslie Stephen and Sidney Lee. 63 vols. and 2 supplements (6 vols.). London: Smith, Elder & Co. 1885–1912. Dictionary of national biography 1912–90. Edited by H. W. C. Davis et al. 9 vols. London: Oxford University Press. 1927–96.
Henslow, George. 1865. Note on the structure of Medicago sativa, as apparently affording facilities for the intercrossing of distinct flowers. [Read 16 November 1865.] Journal of the Linnean Society (Botany) 9 (1867): 327–9.
Jackson, Benjamin Daydon. 1928. A glossary of botanic terms with their derivation and accent. 4th edition. London: Gerald Duckworth & Co.
Natural selection: Charles Darwin's Natural selection: being the second part of his big species book written from 1856 to 1858. Edited by R. C. Stauffer. Cambridge: Cambridge University Press. 1975.
Orchids: On the various contrivances by which British and foreign orchids are fertilised by insects, and on the good effects of intercrossing. By Charles Darwin. London: John Murray. 1862.
Origin: On the origin of species by means of natural selection, or the preservation of favoured races in the struggle for life. By Charles Darwin. London: John Murray. 1859.
Summary
Has made observations on pollination mechanism in Medicago sativa [J. Linn. Soc. Lond. (Bot.) 9 (1867): 327–9], which his brother-in-law [J. D. Hooker] would accept. Wants to check that CD has not already made them.
Also sends interpretation of Salvia.
His observations come from following CD's generalisation in Origin [p. 79] on necessity of out-crossing.
Letter details
Letter no.

DCP-LETT-4928

From

To

Sent from

London, South Crescent, 10

Source of text

Physical description

ALS 4pp damaged