To J. S. Henslow   [26 March 1838]
My dear Henslow
I am ashamed to trouble you with an answer, simply to say I cannot come, but as the invitation to the Ray dinner1 is formal, I thought I ought to answer.—
I am much obliged to Mr Peacock for his "insinuation"2 & I should like to be with you very much, but I am tied firmly by the leg by the hundred & one details, I find I incur with my Editorship of the Zoolog. Beagle's Voyage.—
I am moreover Goth enough to prefer paying you a quiet visit to meeting all the world at a great Dinner.—
Many thanks for your last letter, which delights me touching the Journal.— You & others are magnificent in presenting my work to the Cambridge. Phil. Soc.—
Will you tell Miller how much obliged I am to him for determining the minerals for me.3 But will you say, that the point I am most anxious about with regard to specimen (378 yellow) is whether in those cells where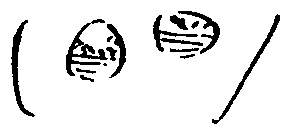 there are two kinds of minerals,—one opake, & one crystallized,—whether both are Chabasie4 as the point appears to me a cu⁠⟨⁠rious⁠⟩⁠ one with respect to the formation of the crystallized mineral, which I suppose is the Chabasie.—
Most truly ys. | Chas. Darwin
36 Grt Marlbro' St—Monday.—
I am going out to dine with Lyell so am in a hurry.
Footnotes
Bibliography
Babington, Charles Cardale. 1857. The Cambridge Ray Club. Cambridge.
Jenyns, Leonard. 1862. Memoir of the Rev. John Stevens Henslow, late rector of Hitcham, and professor of botany in the University of Cambridge. London: John Van Voorst.
Summary
Declines Ray Club dinner; too busy with Zoology.
Thanks JSH for presenting his work to Cambridge Philosophical Society.
Asks him to get an answer from W. H. Miller on specimen of crystallised mineral.
Letter details
Letter no.

DCP-LETT-406

From

To

Sent from

London, Gt Marlborough St, 36

Source of text

Physical description

ALS 3pp