To W. E. Darwin   4 [July 1862]1
Down
4th
My dear William.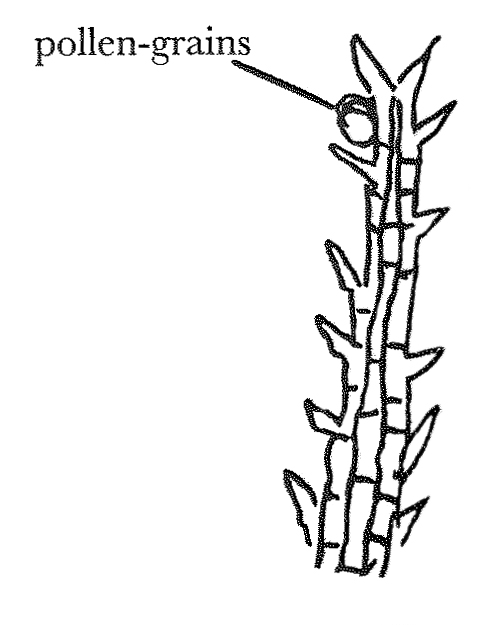 I have been looking at the fertilisation of Wheat, & I think, possibly, you might find something curious.— I observed in almost every one of the pollen-grains, which had become empty & adhered to (I suppose the viscid) branching hairs of stigma, that the pollen-tube was always(?) emitted on opposite side of grain to that in contact with the branch of stigma.— This seems very odd.
The branches of stigma are very thin, formed apparently of 3 rows of cells, of hardly greater diameter than pollen-tube:: I am astonished that the tubes shd. be able to penetrate the walls. The specimen examined (not carefully by me) had pollen only during few hours on stigma; & the mere suspicion has crossed me that the pollen-tubes crawl down these branches to the base & there penetrate the stigmatic tissue. The paleæ open for a short period for stigma to be dusted & then close again, & such travelling down of tubes would take place under protection. High powers & good adjustment are necessary—2 Ears expel anther, when kept in water in room; but the paleæ apparently do not open & expose stigma;— but the stigma could easily be artificially impregnated. If I were you I wd. keep memoranda of points worth attending to. Years ago I asked Hooker how stigma of grasses were impregnated & he seemed to know nothing.—3
That d——d. Verbascum will do nothing—4
The House is not very cheerful— Lenny is not well, & has glands swollen on neck, which is sometimes serious after Scarlet F.—5 Horace is not very well today.—6 Miss Pugh went today,7 & good old Brodie came.8 Miss Rendle came yesterday for dancing—9
We have got a new grey mare from Mr. Edwards on trial (he is the man for horses) & if she answers we shall sell that beast that fell down.—10 She is a beautiful canterer. We got all our Hay in splendidly & we have a gigantic stack, worth £140. I have bought £10,000 Lancaster & Carlisle shares.—11 Here is a dry catalogue of facts. I wish you might be able to come before very long.—
Good night | My dear old fellow | Your affect. Father | C. D.
Mamma says I am to wear a beard.— I am better.
Footnotes
Bibliography
Correspondence: The correspondence of Charles Darwin. Edited by Frederick Burkhardt et al. 29 vols to date. Cambridge: Cambridge University Press. 1985–.
Emma Darwin (1915): Emma Darwin: a century of family letters, 1792–1896. Edited by Henrietta Litchfield. 2 vols. London: John Murray. 1915.
Freeman, Richard Broke. 1978. Charles Darwin: a companion. Folkestone, Kent: William Dawson & Sons. Hamden, Conn.: Archon Books, Shoe String Press.
Origin: On the origin of species by means of natural selection, or the preservation of favoured races in the struggle for life. By Charles Darwin. London: John Murray. 1859.
Post Office directory of the six home counties: Post Office directory of the six home counties, viz., Essex, Herts, Kent, Middlesex, Surrey and Sussex. London: W. Kelly & Co. 1845–78.
'Specific difference in Primula': On the specific difference between Primula veris, Brit. Fl. (var. officinalis of Linn.), P. vulgaris, Brit. Fl. (var. acaulis, Linn.), and P. elatior, Jacq.; and on the hybrid nature of the common oxlip. With supplementary remarks on naturally produced hybrids in the genus Verbascum. By Charles Darwin. [Read 19 March 1868.] Journal of the Linnean Society (Botany) 10 (1869): 437–54.
Summary
Reports some observations on the fertilisation of wheat which WED might follow up.
Letter details
Letter no.

DCP-LETT-3641

From

To

Sent from

Down

Source of text

Physical description

ALS 4pp