From J. D. Hooker   [17 May 

1862

]1
Royal Gardens Kew | Kew
Saturday
My dear Darwin
I have been at the red Leschenaultia this morning.2 Not the same species as last year. I find no stigmatic surface whatever in the indusium—but as before a hard dense very unstigmatic tissue under the glandular surface. No pollen tubes any-where. A very stigmatic tissue underlies a pulvinus within the indusium at b but it is covered perfectly with cuticle.3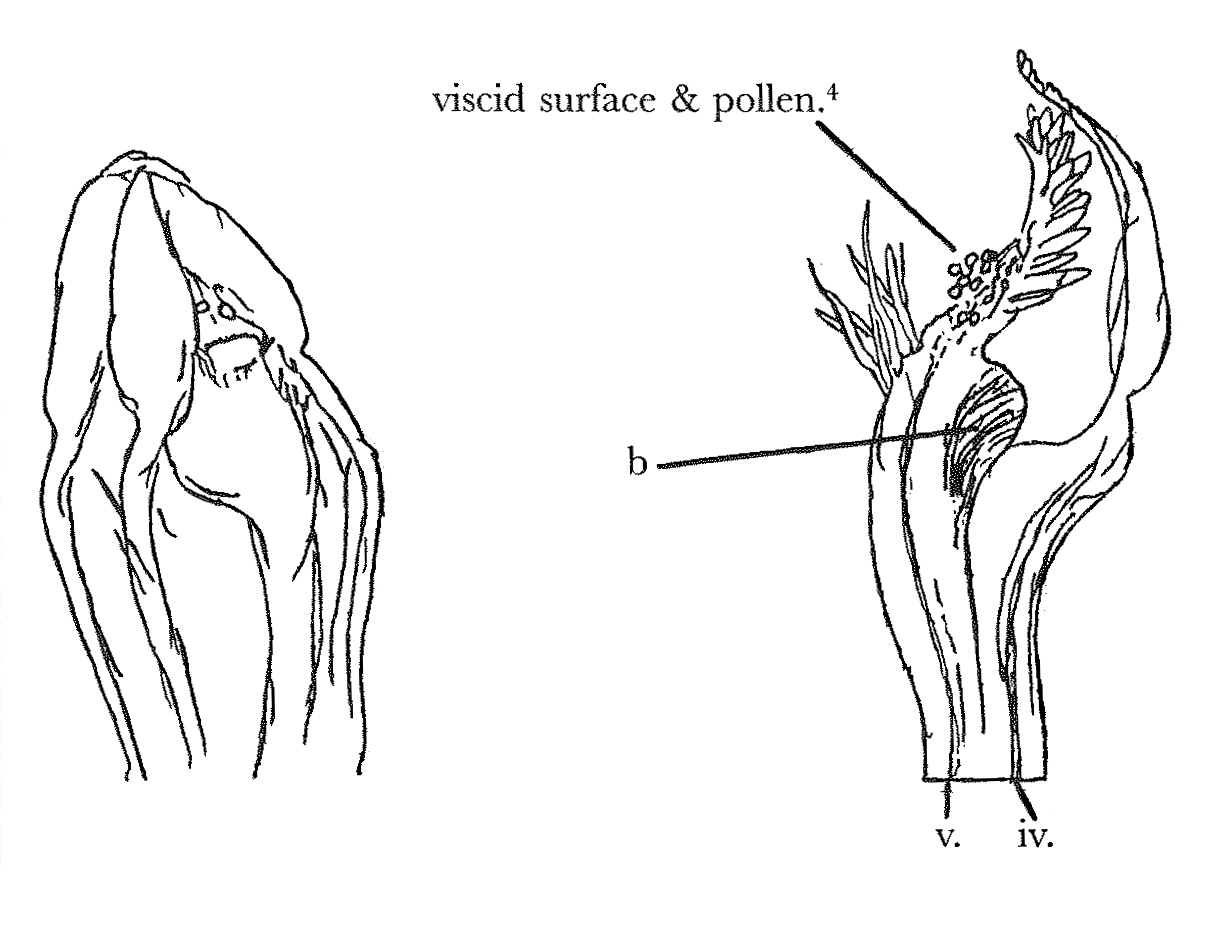 4
Best paper for drying plants can be got at Pamplin 45 Frith Street Soho London.5
Ask Ross for the simple microscope price £4"4 which Dr Hooker orders. his address is Featherstone buildings Holborn6
Bentham & Oliver are quite struck up in a heap with your book & delighted beyond expression7
CD annotations
4.1 Bentham … expression 4.2] crossed pencil
Top of first page: 'Red Leschenaultia not formosa'8 pencil; 'West Strand Eye glass' pencil, del pencil; 'Address for Paper' pencil, del pencil
Diagram: 'A Red Leschenaultia not formosa.' pencil
Footnotes
Bibliography
Correspondence: The correspondence of Charles Darwin. Edited by Frederick Burkhardt et al. 29 vols to date. Cambridge: Cambridge University Press. 1985–.
Orchids: On the various contrivances by which British and foreign orchids are fertilised by insects, and on the good effects of intercrossing. By Charles Darwin. London: John Murray. 1862.
Post Office London directory: Post-Office annual directory. … A list of the principal merchants, traders of eminence, &c. in the cities of London and Westminster, the borough of Southwark, and parts adjacent … general and special information relating to the Post Office. Post Office London directory. London: His Majesty's Postmaster-General [and others]. 1802–1967.
Summary
Discusses Leschenaultia, finds no stigmatic surface in the indusium.
Gives information on where to obtain paper for drying plants and where to obtain a microscope.
Letter details
Letter no.

DCP-LETT-3527

From

To

Sent from

Kew

Source of text

Physical description

inc † sketch