To Asa Gray   16 September [1861]1
Down Bromley Kent
Sept. 16th
My dear Gray
In the whirl of your public affairs, science may be forgotten, or if not forgotten you may have no inclination to write. But if so inclined I shd. be very glad to have a little information on any cases of dimorphism, like that of Primula, & to be allowed to quote you.—2 To make sure that you may understand what I want to know: I give this beautiful diagram of the two forms of Primula.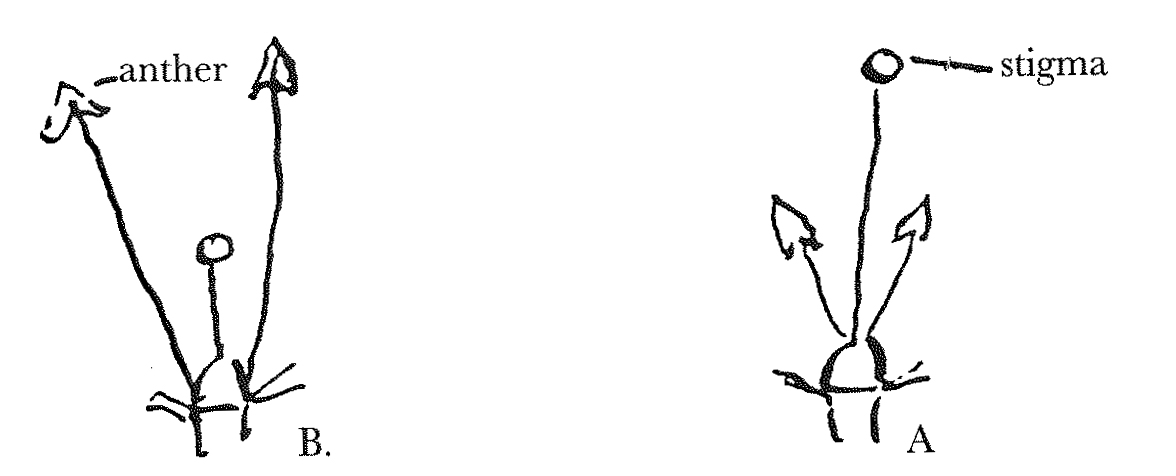 I think I have made out their good or meaning clearly. The pollen of A is fitted for stigma of B & conversely. The individuals are divided into two sets or bodies, like the males & females of Quadruped; but both in Primula are hermaphrodites: but I will not enter on details, as I will soon send a paper to Linn. Soc.y.—3 I should be eminently glad to know of other analogous cases. Are the two forms ever borne on same plant? Thyme is a different case: as the one form is simply female, stamens having aborted; these females, however, I find to be the most productive of seed.4 Some of the species of Linum offer this case: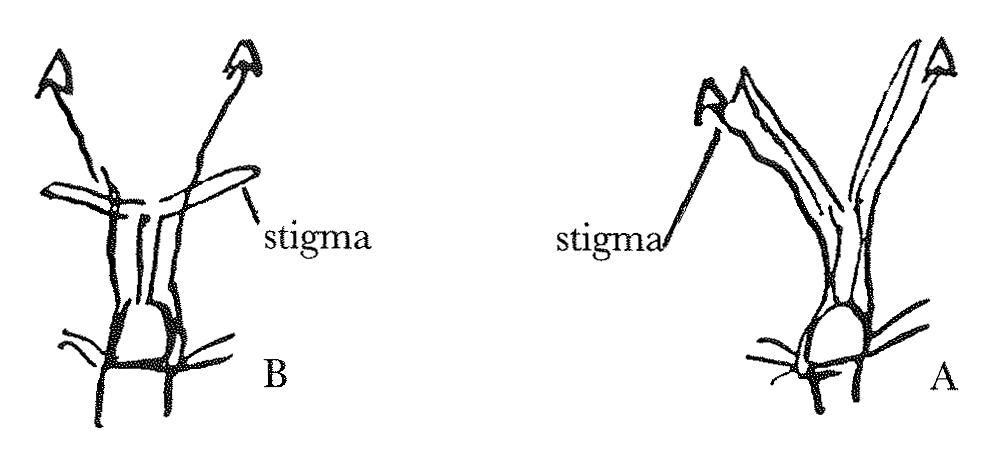 I am rather too late to experiment fairly; but I am almost sure that pollen of A is absolutely sterile on stigma of A: but good for stigma of B: whereas pollen of B is good for its own stigma B & for stigma of A.—5
This subject interests me much, so do help me if you can; for I have some very faint hopes that it may throw some light on Hybridisation;6 I have sown seeds of Primulas raised in very scanty numbers from stigmas fertilised by what I call a homomorphous union; ie by pollen from plant of same form.—
If you have looked at Spiranthes let me hear:7 but if your Spiranthes are like S. speciosa figured by Bauer:8 they are very different from our S. autumnalis; which by the way at Torquay I had the good luck to see Bees fertilise: I have almost finished my long Orchis paper,9 & then I must go back to my true work on Cocks & Hens, fowls & rabbits.10 Eheu Eheu, what much better fun observing is than writing.
By the way I have just been amusing myself in looking at Dionæa in aid of my Drosera work. How curious it is to see a fly caught & how beautiful are the adaptations compared with Drosera. But I must not run on about my hobby Horses.
Farewell | My dear Gray | Yours very sincerely | Charles Darwin
Footnotes
Bibliography
Bauer, Franz Andreas. 1830–8. Illustrations of orchidaceous plants … with notes and prefatory remarks by John Lindley. London.
Collected papers: The collected papers of Charles Darwin. Edited by Paul H. Barrett. 2 vols. Chicago and London: University of Chicago Press. 1977.
Correspondence: The correspondence of Charles Darwin. Edited by Frederick Burkhardt et al. 29 vols to date. Cambridge: Cambridge University Press. 1985–.
Variation: The variation of animals and plants under domestication. By Charles Darwin. 2 vols. London: John Murray. 1868.
Summary
Is interested in cases of dimorphism like Primula. Discusses Primula and Linum.
Letter details
Letter no.

DCP-LETT-3255

From

To

Sent from

Down

Source of text

Physical description

ALS 4pp