To Asa Gray   21 July [1861]1
2. Hesketch Cresent | Torquay | Devon.
July 21.
My dear Gray
I have been indolent, otherwise I shd. have thanked you heartily for taking trouble about getting me the 3 Hybrid pamphlets,2 which I received just before starting here for the sea for my daughter's sake who improves a little.— And now I have to thank you for your pleasant & useful note of July 2d.—3
I am now writing my Orchid paper & am glad to hear what you say about Cypripedium4 & that you will have a look at Spiranthes:5 remember that you must look at flower just opened & not visited by moth. I hope Hooker will send me an Arethusa.6
I am astonished at Drosera filiformis misbehaving: my experiments were all tried late in summer.7 Did you expect a rapid or visible movement? that very rarely takes place: the minutest atom of raw meat placed on a single gland, which is covered with viscid secretion, shows motion best.— If gland is dry no movement takes place. I hope to finish my observations on Drosera this Autumn.8 From what I have seen of Cypripedium insigne my difficulty is to know what induces an insect to place its head so far back in flower:9 if you find many plants in flower watch for a little time for bare chance of an insect's visit.—
This diagram gives, as you know, the structure of the 2 forms of Primula;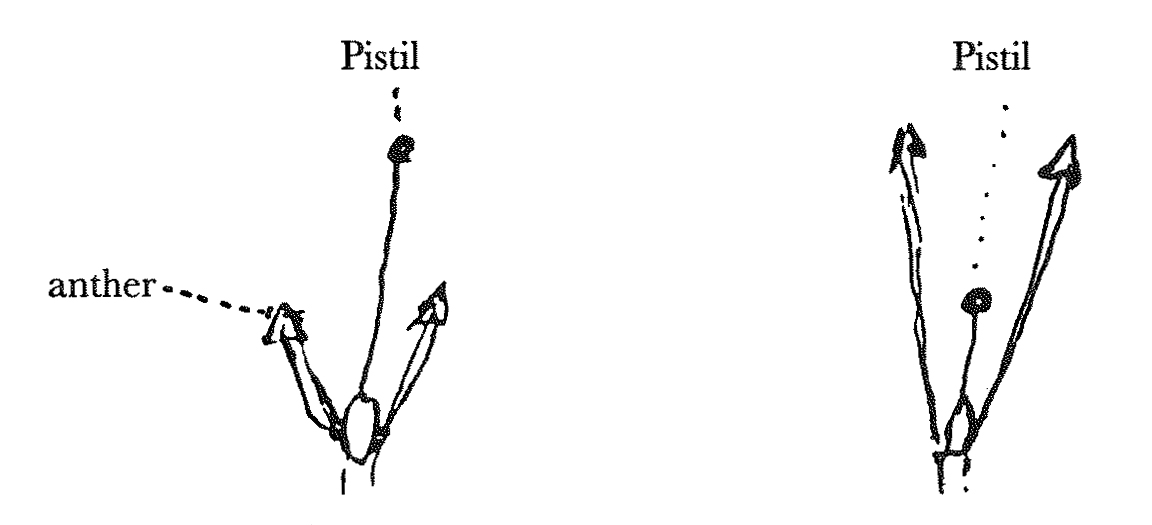 now if you know of analogous cases, I shd. be particularly obliged if you would name them & allow me to quote you:10 also, if they are hardy plants & good seeders I would experiment on them.— I could not read one name given.—
How I shd. like half-an-hours conversation on Design: nothing else would make us quite understand each other.11 As no one has aided the subject of natural selection & the knowledge of my Book so much as you, I must tell you what has pleased me much after the many attacks on me for neglecting "Induction" "Baconian philosophy" &c. We in England think John Stuart Mill the highest authority on such subjects, & he said lately to a friend, who wrote to me, as follows. "he considers that your reasoning throughout is in the most exact accordance with the strict principles of logic. He also says the method of investigation you have followed is the only one proper to such a subject."—12 My wife's remark on reading this, was "why you know nothing about Logic".— Is it not (I mean Mill's & not my wife's sayings) very satisfactory to me?—
I was very glad of your P.S. on the state of your country; one values a private note far more than a dozen public letters. After carefully reading Olmstead's last Book I never doubted the North would conquer the South.13 But then what is to follow? From Olmstead & Russell's letters in Times,14 I cannot believe that the South would ever have fellow-feeling enough with the North to allow of government in common. Could the North endure a Southern President? The whole affair is a great misfortune in the progress of the World; but I shd not regret it so much, if I could persuade myself that Slavery would be annihilated. But your president does not even mention the word in his Address.—15 I sometimes wish the contest to grow so desperate that the north would be led to declare freedom as a diversion against the Enemy. In 50 or 100 years your posterity would bless the act.— But Heaven knows why I trouble you with my speculations; I ought to stick to Orchids.
Hooker, I fear, is as usual overworking himself: I seldom hear from him. This place is charming; but I am not as idle, as I ought to be.
Farewell | My good & kind friend | Yours most truly | Ch. Darwin
I am trying to make out the good of two forms of Thyme.16

We shall be here about 4 weeks more
Footnotes
Bibliography
Collected papers: The collected papers of Charles Darwin. Edited by Paul H. Barrett. 2 vols. Chicago and London: University of Chicago Press. 1977.
Correspondence: The correspondence of Charles Darwin. Edited by Frederick Burkhardt et al. 29 vols to date. Cambridge: Cambridge University Press. 1985–.
DNB: Dictionary of national biography. Edited by Leslie Stephen and Sidney Lee. 63 vols. and 2 supplements (6 vols.). London: Smith, Elder & Co. 1885–1912. Dictionary of national biography 1912–90. Edited by H. W. C. Davis et al. 9 vols. London: Oxford University Press. 1927–96.
Forms of flowers: The different forms of flowers on plants of the same species. By Charles Darwin. London: John Murray. 1877.
Insectivorous plants. By Charles Darwin. London: John Murray. 1875.
McPherson, James M. 1988. Battle cry of freedom: the Civil War era. New York and Oxford: Oxford University Press.
Olmsted, Frederick Law. 1860. A journey in the back country in the winter of 1853–4. London: Sampson, Low, Son & Co.
Orchids: On the various contrivances by which British and foreign orchids are fertilised by insects, and on the good effects of intercrossing. By Charles Darwin. London: John Murray. 1862.
Summary
Is writing his paper on orchids.
Is surprised that AG gets little or no response with Drosera.
Describes the two forms of Primula and asks whether AG knows any analogous cases of dimorphism.
Reports that John Stuart Mill approves of CD's scientific method.
Discusses American politics.
Letter details
Letter no.

DCP-LETT-3216

From

To

Sent from

Torquay

Source of text

Physical description

ALS 8pp