To Charles Lyell   21 April [1856]1
Down Bromley Kent
April 21st
My dear Lyell
Your case seems to me most perplexing;2 I have never seen or heard of anything like it, & have been puzzling my brains quite in vain. One thing I quite see & agree with you, that it is a strong argument against the angle of (say) 12o having been produced by upheavement, for it is manifestly impossible that the columns in a flat field of lava could have been all formed at angles inclined from the centre of the island, so as to become vertical when the beds were upturned 12o. The cause must (I shd. think) be connected with the lava not having absolutely ceased its downward tendency when the shrinking which produced the columns & fissures was first superinduced.
Would it not be worth while to ask Hopkins or some such man,3 whether in a body of very viscid matter just before all motion ceased, whether there could be any vertical sliding movement in closely approximate planes tending to make (not really making) steps like these;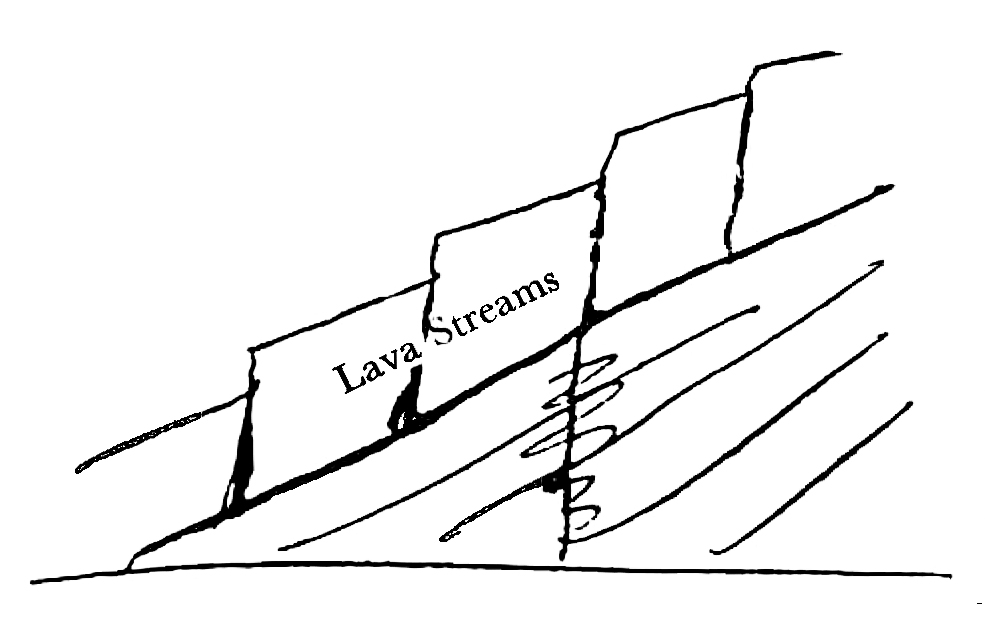 for if so I can well fancy such tendency might have guided the planes of division of the columns.— I know I have seen some columnar lava with columns directed in manner for which I could conceive no cause, but I cannot remember where.—
I have seen very narrow, very convex streams of lava, (which must have been very viscid) with the proper radiating columnar structure beautifuly displayed.—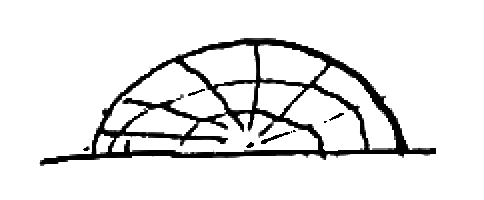 Have I not read of Glaciers, coming down a very steep slope, breaking up into vertical steps?
Do make the local areas crowded with parallel dikes a prominent feature, though I daresay you are very wise & safe in allowing some central elevation of the whole. What a deal of interesting work your Madeira expedition has given you!4
Yours most truly | Ch. Darwin
I supposed you observed your facts in Madeira & not from drawings alone.— I have been drawing the angles on paper & in thin beds of lava, I shd. have thought the difference wd. not have been conspicuous; in thick beds it undoubtedly would
Has not Forbes,5 or Hopkins or some one given figure of some very viscid substance flowing down slope, with plane of division, something like this? —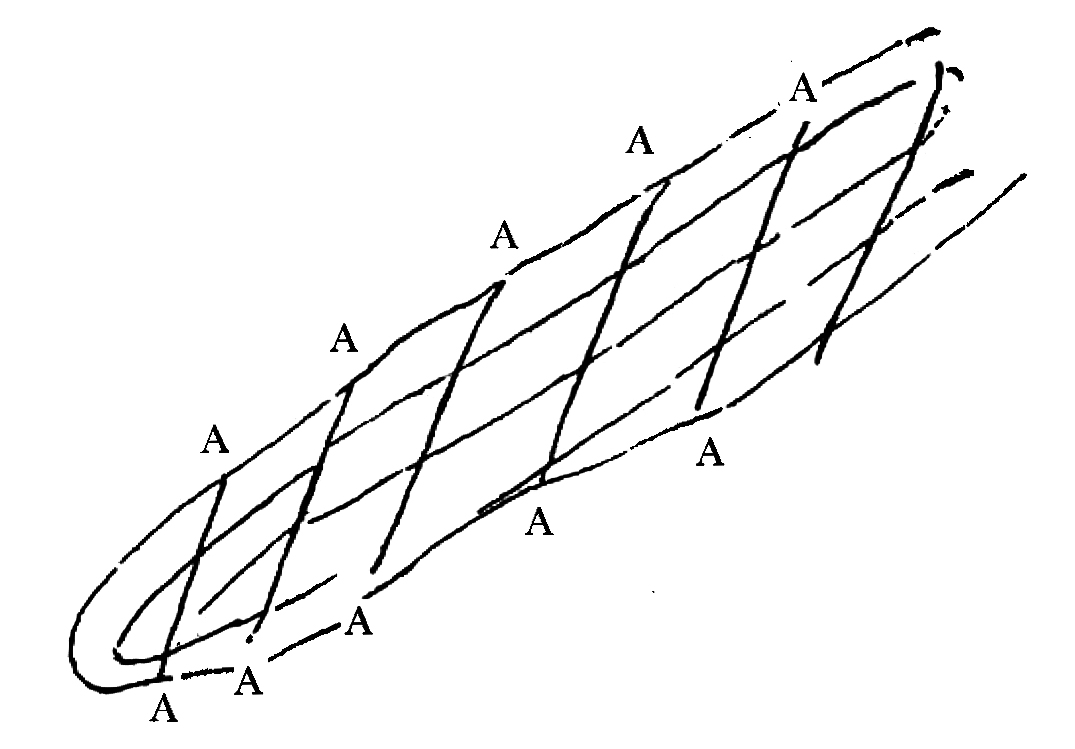 I have some vague idea I have seen such— The planes AA, if ever so obscure, might well guide the formation of adjoining columns, & then the rest of the columns.
The more I think the more inclined I am to think that some such view must be cause of your, as it seems to me very important & extraordinary fact.— The longitudinal planes of division in a lava-stream, could have no effect, I shd think, on the dip of the columns.—
Footnotes
Bibliography
Correspondence: The correspondence of Charles Darwin. Edited by Frederick Burkhardt et al. 29 vols to date. Cambridge: Cambridge University Press. 1985–.
Forbes, James David. 1845. Travels through the Alps of Savoy and other parts of the Pennine chain 2d ed. Edinburgh.
Hartung, Georg. 1864. Geologische Beschreibung der Inseln Madeira und Porto Santo. Leipzig: W. Engelmann.
Lyell, Charles. 1858. On the structure of lavas which have consolidated on steep slopes; with remarks on the mode of origin of Mount Etna, and on the theory of 'craters of elevation'. [Read 10 June 1858.] Philosophical Transactions of the Royal Society of London 148: 703–86.
Smith, Crosbie. 1989. William Hopkins and the shaping of dynamical geology: 1830–60. British Journal for the History of Science 22: 27–52.
Summary
Speculates about cause of inclination in unusual columns of lava. Suggests CL check with William Hopkins about sliding movements in viscid matter.
Comments on CL's expedition to Madeira.
Letter details
Letter no.

DCP-LETT-1855

From

To

Sent from

Down

Source of text

Physical description

ALS 8pp